Michigan-MC-Numbers.com serves the state of Michigan, from Monroe to Mackinac, Copper Harbor to St. Joe with boat name lettering (such as your port of call) and custom graphics.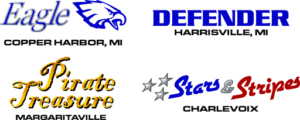 Contact us to talk about your design idea and we'll get you a quote.
We use quality vinyl with a minimum 5-year continuous exposure rating, and can create eye-catching one-, two-, or three-color custom boat graphics that will make you proud!