Your initial registration for a NEW boat will likely come from your new boat dealer. If you're bringing a new boat from out of state, you'll go to michigan.gov/SOS to TRANSFER a watercraft to Michigan. All other boaters, use the Transfer (which is pretty much the only option anymore) to transfer your boat from a previous owner to you. If you are buying a used boat, that was in MI, you do not need a new MC number – you will transfer it with the boat. You only need new stickers if they are worn down or otherwise damaged. The state sends you your rectangle year sticker.
If you DO need a new sticker (new boat! YAY!) We can help outfit your new boat with your required MC number stickers once you have your new number from the State of MI.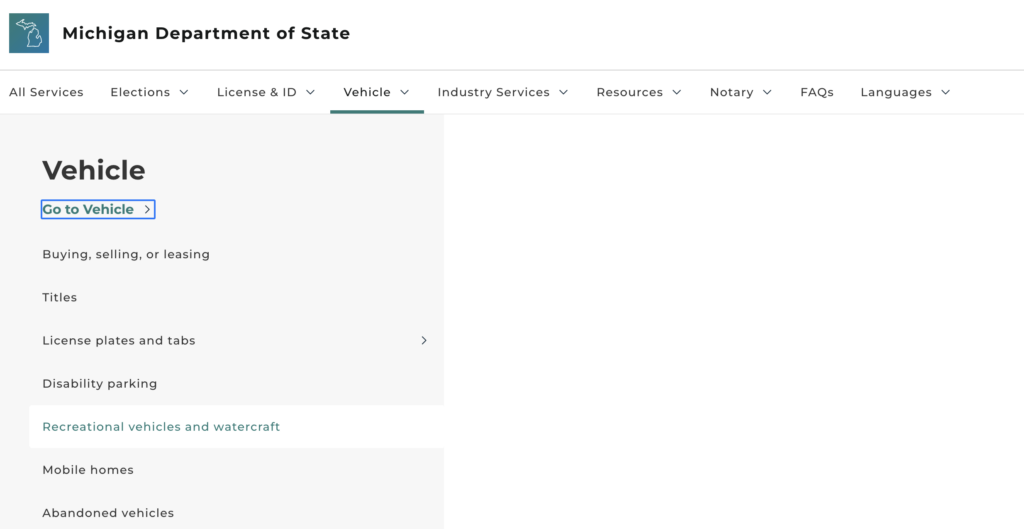 If your boat is not new but it has not ever had an engine and is under 20′ and you're adding an engine, this is a new registration, and you'll have to make an appointment at your local SoS office (michigan.gov/SOS) or they have stations in many Meijer stores too. Convenient, get your boat registered and pick up snacks!
What do you need? A title, preferably, but if you don't have that, a bill of sale and some sort of ID on the boat (hull IDs are generally stamped into a seat, or under the transom or, sometimes on sailboats, etched into near where the mast is stepped or the centerboard trunk is.) If you're adding an engine to the "cottage boat" that's never been registered before, you'll need a bill of sale – this doesn't have to be fancy, we had a relative sign a one page document that I typed up and printed the day before I registered the boat, and I took that in and the state issued me a provisional title. Provisional because if someone else came to say the boat was theirs (with a proper title), it would replace the provisional one. But no one will do that, it's a cottage boat and we've had it since the 80s.
New boats, you'll get a number and/or a title from the dealer and your responsibility is to get the MC numbers for your boat. That's what WE do! We provide a service, you order your stickers, made for your boat, and your new boat number, in a choice of 10 fonts and 12 colors. You can even order your boat name or port of call (we have some script fonts/typefaces you can use for boat names that you cannot use for boat numbers.)
The stickers come all on one sheet, and you will peel back the backing and press your stickers on, peel the top transfer paper and voila, individual letters and numbers, perfectly aligned and perfectly in compliance with state regulations. The Sheriff will leave you alone (unless you're doing something dumb, so don't do something dumb!)
That's it!
Frequently asked questions about registering your boat in Michigan:
If you order from us you get TWO numbers – one for each side of your boat with ONE order, just order one, we send two. If you order two, we send four. If you get four by accidentally ordering two, use them on your dock box or your trailer.
The fonts and colors photos can be made larger by clicking the little photos under the big photos on the ordering page where you enter in your number.
We are not the Secretary of State (but we know people there)
We just make stickers
You need MC numbers for ANY vessel, regardless of the size of the boat, that has an engine (regardless of the engine size). Trolling motor on an 8′ kayak? MC numbers.
If it's sail, you do NOT need numbers on a sailboat with NO engine provided it's under 20 feet in length. So cottage Sunfish or Laser? No numbers. Hobie 14? same. Just no engines!
If you're putting an engine on your kayak, please try our Boat Registration Stencils. The bumpy plastic of a kayak means the vinyl numbers will not stick very well. Some people still want these (they get nervous about spray painting the numbers on.) But our stencils work nicely, they are paint mask stencils, you get a set, you can tape them down, put some overspray newspaper or a drop cloth around and spray both sides, and then peel the stencil when dry.
If you have a RIB (rigid inflatable), use our stencils and see this post here for details on the vinyl spray paint you'll want to use.
You can't look up MC numbers online to see who owns a boat (the state does not offer that service). You can likely CALL them (but it's hard to get through, we are not the secretary of State.)